theSTRUCTUREBALL by Watson Golf
1. Ergonomically designed arm channel that tapers from top to bottom for a perfect fit.
2. Target line indicator to make sure your shoulders and body are aligned correctly to intended target.
3. Vertical arrow indicator to ensure you have the proper tilt at set up.
4. Safety strap to make sure the ball stays connected to your body.
Learn More
Assist with proper set up
Shoulder and body alignment
Arm structure and loading
theSTRUCTUREBALL is a premium ergonomic swing aid that gives you constant feedback on proper setup, alignment, pivot, and arm structure creating instant change in your body mechanics.
theSTRUCTUREBALL forces you to build procedural memory that produces an effective repeatable swing and is highly effective for all skill levels.
Build a consistent swing and improve your score.
A well-designed, easy to use tool to help you improve your golf game.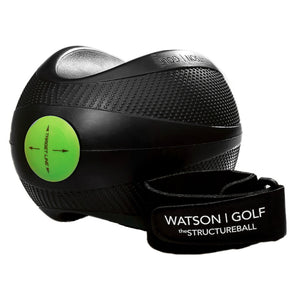 Structure Ball
Sale price Price $69.99 Regular price Unit price / per